---
The following is a sampling of recently sold ranches.
For a detailed listing, please contact us.

Jackson Ranch - 3,255 ACRES Lampasas County
SOLD 2020
The Historic Jackson Ranch
Lampasas County
3,255 Acres
The Jackson Ranch is located approximately 13 miles West of Lampasas, Texas on FM 580 and approximately 63 Miles from the Austin, TX City Limits. 1.80 miles of the Colorado River frontage, varies from 200 high cliffs overlooking the river and views to the West, to low sloping grassy banks sheltered by pecan trees. The ranch is contiguous native rangeland which is located in the famed Texas Hill Country. The terrain is hilly to rough with a substantial portion on the west being rocky hills, ridges and canyons.
Kenmore Farm - 1158.87 ACRES Boerne, Texas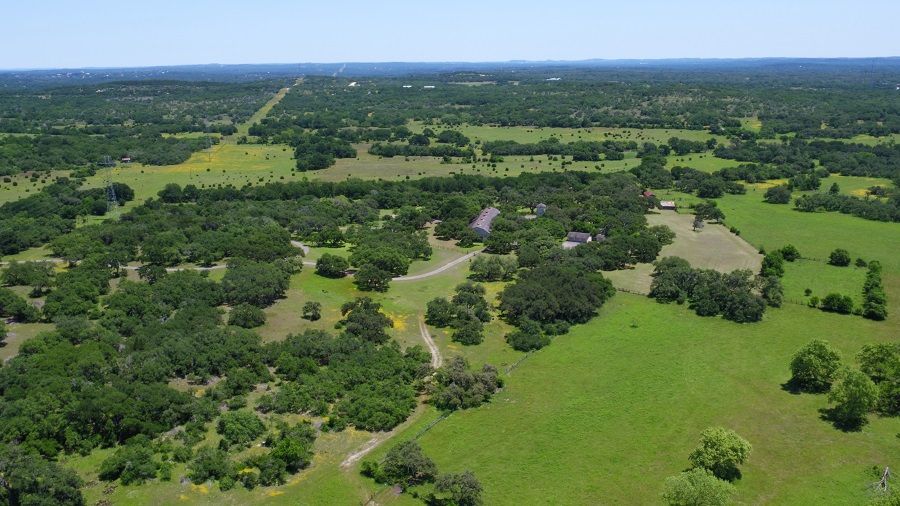 SOLD 2017. The Kenmore Farm, named after George Wilkins Kendall, the namesake of Kendall County and Clifford Mooers, Texas Oilman and Thoroughbred Breeder is a prominent historic property in the Texas Hill Country.beautiful ranch of significant historical value in the Texas Hill Country. Amazing oak cover, permanent springs. Slightly undulating to a high hill offering outstanding views of the surrounding hill country. Excellent native grass cover along with scattered Live Oaks, Post Oak, Elm, Pecan, Sycamore and others are present on the property.
Formerly Known as the Goodrich Ranch
SOLD 2007.
A commanding presence in northwest Burnet County, the 21,305+/- acre ranch as the largest single-ranch opportunity in decades in the Texas Highland Lakes. Boasting nearly eleven miles of majestic frontage along Texas' largest river — the Colorado — the property offers stunning vistas, ample wildlife, clear-running streams and the ability to participate in the increasing popularity of Lake Buchanan, the last-to-be-developed of the Texas Hill Country's seven major lakes. This rustic, natural area is located virtually in the geographic center of Texas. This ranch is truly the crown jewel of Central Texas.
Dunham Ranch in Hopkins County
SOLD 2005.
The Dunham Ranch is very unique in that it is all usable fertile river bottomland. The irrigation water is virtually cost-free and there is lots of it. The Dunham Ranch consists of approximately 13,500 acres of land (somewhat more than 21 square miles) located 75 air miles northeast of Dallas, Texas. Four good homes, large barn used for equipment storage, seed, storage, workshop, etc., complete office, steel cattle pens with 100,000 lb. Scales, 100,000 bushel grain storage. River pumps with diesel engines.
Esperanza Ranch in Duval County
SOLD 2004.
The Esperanza is a historic Duval County ranch -- an ideal combination of a top working ranch and a sportsman's paradise! It has been in the same family for 83 years and by virtue of its good ranch stewardship has developed excellent range conditions. The ranch has a restored rock lodge dating back to the 1800's. Overall, the Esperanza Ranch is a gorgeous, unspoiled ranch offering excellent topographical diversity and ideal habitat for deer, turkey, quail, and dove. Due to many years of game management, the Esperanza Ranch has superb trophy deer genetics. Gorgeous creek beds offer lots of turkey, and
together with the abundant water, good soils, and the ideal brush diversity with its high protein content, this ranch is clearly one of South Texas' finest!
Cabeza Ranch in Duval County
SOLD 2004.
This South Texas ranch is as good as it gets! The Cabeza is located in the heart of the South Texas Brush country, beginning approximately four miles NE of Freer and extending north about eight miles. It is located about 90 miles south of San Antonio, 55 miles west of Corpus Christi, and is nearby Baffin Bay, widely known for the excellent fishing. The north boundary of the ranch is only 3.5 miles south of the Duval-McMullen County line. The west boundary and the headquarters entrance front on Highway 16. Highway 59 divides the eastern part of the ranch, with approximately 12,000 acres west and the remainder east.
The Double Arrow Ranch in Falls County
SOLD in 8 units, from April, 2002 to February, 2003:
These
superlative ranches comprising over 12,000 acres are located in portions of Falls, Milam, and Robertson Counties. The terrain ranges from nearly level or gently sloping along the Brazos River bottom to rolling along the upland portion of the property. Trees are scattered throughout the pastures, which are predominantly coastal.

Water is plentiful, with a substantial portion of the ranch irrigated by water pumped by permit from the Brazos River. Substantial improvements on the ranch include homes, storage buildings, barns, shed, grain bins, hay shed, working pens, and perimeter & interior fencing.
Tres Lagos Ranch in Jim Hogg County
SOLD January, 2003:
The
Tres Lagos Ranch is one of the finest quail hunting ranches to hit the market in many years! The ranch features the very best of the sandy savannah mesquite mott country below Hebbronville, Texas and includes a beautiful 6,000 square foot ranch house nestled under giant oak trees as well as a private airstrip, a foreman's house, a five-bedroom guest house, state-of-the-art dog kennels capable of housing 36 dogs, pipe cattle pens, and many miles of all-weather roads.

The ranch is a wildlife paradise with outstanding hunting of quail, trophy deer, turkey, dove, and hogs. Water is abundant: Eight shallow wells supply scattered wildlife ponds, and two free-flowing artesian wells channel to large lakes, an irrigation well, and a reservoir. Three lakes stocked with bass provide excellent fishing.
Brazos River Ranch in Hill County
SOLD September, 2003:
The
Brazos River Ranch consists of 762 acres currently used as a working cattle and horse operation in the southwest corner of Hill County, within easy commuting distance to Fort Worth. Dramatic elevations, numerous pastures and stock tanks, large oaks, irrigated coastal fields, rolling pecan bottoms, panoramic views of the Hill Country, and over 6,000 feet of the beautiful Brazos River are among the features of the ranch. There are many improvements, including a spacious four bedroom/three bath ranch house with an adjoining office suite connected by a large enclosed porch. Wildlife on the property includes deer, turkey, quail, dove, wild hogs, and big horn sheep. This north-central ranch is a spectacular one!
Buffalo Ranch in Burleson County
SOLD August, 2003:
The
Buffalo Ranch is an 11,113-acre production farm and cattle ranch five miles from College Station and Texas A&M University, one of the pre-eminent agricultural universities in the world, and is conveniently located just four miles from Easterwood Airport. It is comprised of 8,000 acres of cultivated cropland; 2,268 acres of non-irrigated cropland; 4,704 acres of irrigated cropland; 3,500 acres of improved grassland; a 300-acre headquarter compound; a gorgeous 4,000 square foot plantation style home; ten miles of Brazos River frontage; 46 water wells; and 20 irrigation pivots. The Brazos River delineates the eastern edge of the ranch.